Press Release
June 5, 2000
The Latest Fingerprint Scan API Toolkit™ Release Offers Speed Improvements
PLANO, Texas — Mentalix, Inc. is now shipping Version 2.5 of its Fingerprint Scan API Toolkit, a software solution that allows systems
integrators to add an FBI-certified 10-print and latent print scanning interface to custom turnkey systems for the law enforcement and civilian security industries.  This latest release features new, multi-threaded scanning capabilities, which can increase overall scanning speed and improve image quality.  The potential for scanner "backtracking," which can compromise scanned image integrity on slower and heavily loaded machines, is all but eliminated.  As with previous releases, Version 2.5 works as a "drop-in" upgrade for current users.
"The addition of multi-threaded scanning represents a significant advance for fingerprint card scanning systems based on our libraries," Paul Siegert, Mentalix president, notes.  "Systems integrators have told us that there are simply no affordable commercial or proprietary certified solutions out there that provide competitive scanning speed, and building one from scratch that even gives the resemblance of being competitive is exceedingly difficult and time-consuming.  The industry-wide acceptance of this product to date has already confirmed that this is the right product for this market.  Discriminating customers recognize the importance of quality and performance, and they realize true benefits from leveraging Mentalix's continued focus in this area.  Top-shelf product capability, adaptability and real net cost savings make this product decision very straightforward."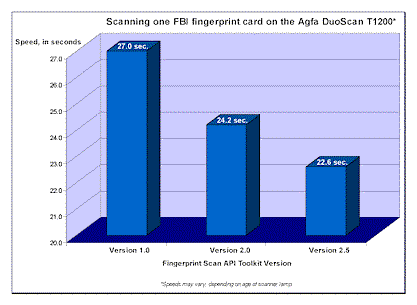 With its 'C' API, the Fingerprint Scan API Toolkit allows integrators to provide a scanning interface for users of Windows 95/98/NT/2000® and UNIX® systems as well as multi-platform environments.  Features include a fingerprint definition template for support of non-U.S. fingerprint cards or for custom applications, plus "drop in" software updates for taking advantage of new features and advances in hardware technology.  Mentalix offers several scanner/platform-specific library modules, each certified by the FBI as being compliant with the Appendix F Image Quality Specifications for its Integrated Automated Fingerprint Identification System (IAFIS).  Certified runtime library modules are available for 500 ppi 10-print card scans and 1000 ppi latent print scans.  The add-onFingerprint Utility API Toolkit™ enables additional fingerprint image processing functionality, including cropping, card validation and image analysis routines.  Mentalix (info@mentalix.com) also currently offers thePixel!SCAN API Toolkit™, an add-on product that may be used with the Fingerprint Scan API Toolkit to handle both fingerprint scanning and more general-purpose scanning needs, such as acquiring electronic versions of mug shot photos and documentation associated with suspect records.
###
Incorporated in 1987, Mentalix was founded to develop easy-to-use products for the purposes of scanning, editing, and printing photographic images from high-performance workstations.  In recent years, Mentalix has applied its software development and imaging expertise to the creation of industry-recognized, FBI-certified fingerprint acquisition solutions.  Corporate-wide, Mentalix continues to provide fast, elegant solutions for scientific, technical, GIS, manufacturing, fingerprint analysis, medical, educational, and government industries.  Mentalix targets custom, systems integration and off-the-shelf solutions for Windows and a variety of UNIX systems.  The company maintains its headquarters north of Dallas in Plano, Texas.
Mentalix, Fingerprint Scan API Toolkit, Fingerprint Utility API Toolkit, and Pixel!SCAN API Toolkit are trademarks or registered trademarks of Mentalix, Inc.  UNIX is a registered trademark.  Windows and Windows NT are trademarks or registered trademarks of Microsoft Corp. in the U.S. and/or other countries.  All other trademarks acknowledged.
Press contact:
Alissa F. Payne
Mentalix, Inc.
(972) 423-9377 Ext. 124